Introducing 'Facilitator Stories'
LIFT Ireland was launched in 2018 with the goal of increasing the level of positive leadership in Ireland. Within ten years, our goal is that 10% of the population will have experienced the learning process and be "Living LIFT". We will reach this goal through a facilitator network and corporate partner programmes.
LIFT works when people talk. In LIFT roundtables, groups of four to five people meet and, over the course of eight weeks, come together for thirty minutes a week to discuss LIFT's leadership values. These include Listening, Positive Attitude, Respect, Competence, Dedication & Determination, Empathy & Understanding, Accountability, and Honesty & Integrity.
Facilitators are the individuals that guide LIFT's roundtable process. As they go through training in how to lead a group and partake in the LIFT roundtable process, facilitators' lives are changed just as profoundly as the other participants. In our 'Facilitator Stories', we sit down with LIFT Ireland's facilitators to hear their stories and see what Living LIFT has brought to their lives.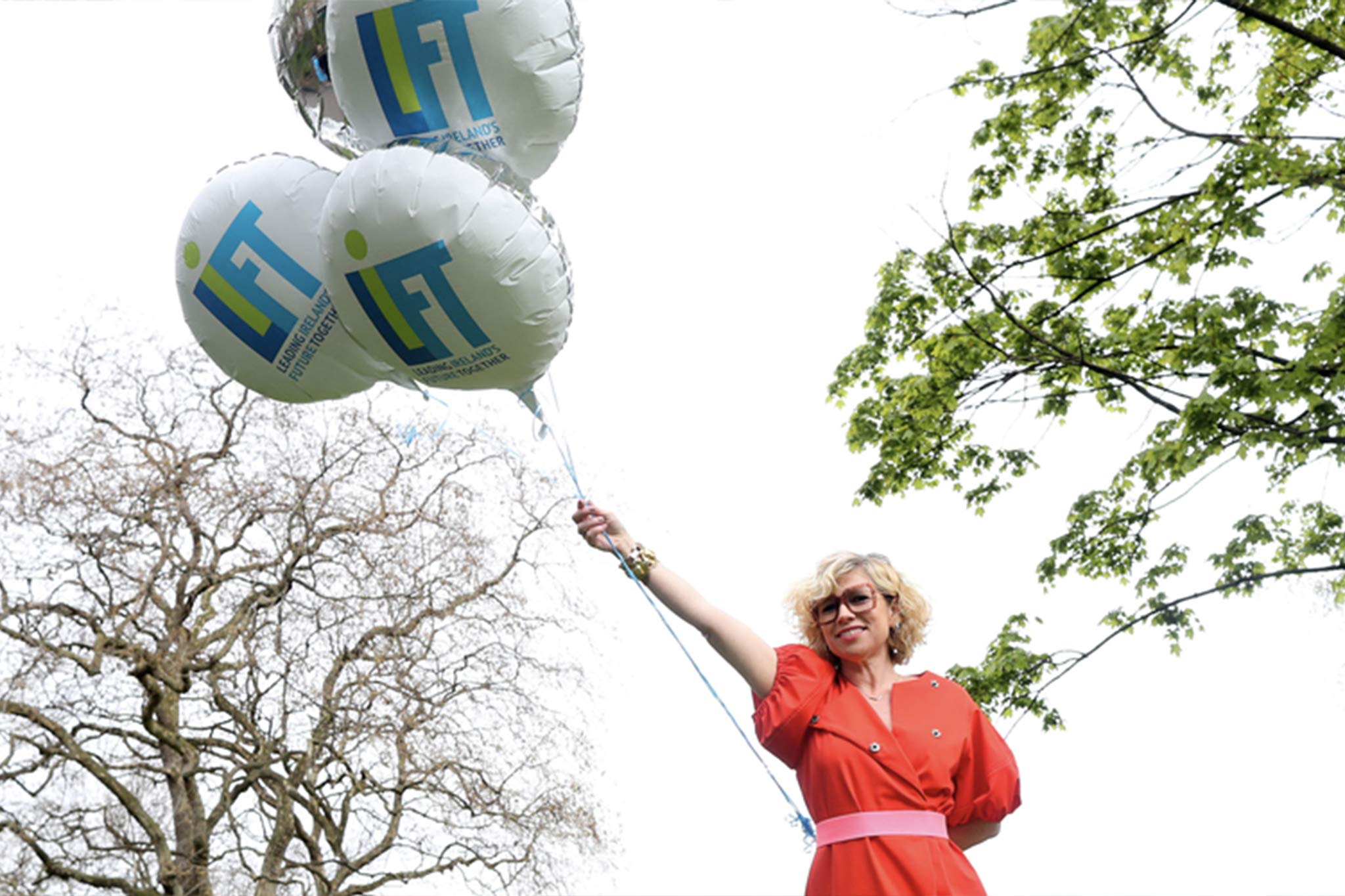 Colette's Story – "Rediscovering My Sense of Self Worth"
Colette was one of LIFT's earliest facilitators. Colette is a mother of five, who worked as a manager within the food industry for many years. After her third child, Colette decided against returning to work and became a stay at home mum, and child-minder for others. Colette shared with us how, prior to becoming a facilitator, her role as a mother took over her identity.
"Sometimes, when you become a parent, you begin to lose your sense of self, especially when you aren't out in the workforce. I was a mother of five, living in an alcoholic home and that is how I labelled myself. "
Colette had been on a journey of self discovery when she first spoke to Joanne Hession about LIFT. "I knew Joanne from the GAA sidelines as our 15-year-old girls played on the same team. Joanne knew exactly where I was in life and suggested that I come along to a LIFT Facilitator training day at the RDS. In fact, it was the first ever one. "
To become a LIFT facilitator, you first complete a half day facilitator training course. Participants learn about the process and how to facilitate sessions within a spirit of non-judgement. During the session, facilitators get to experience a roundtable for themselves. Colette was in a group with five others, reflecting on the leadership value of Listening. According to Colette, she was somewhat overwhelmed by the experience.
"I remember being at the first session and feeling like I didn't belong. I was in a room with CEOs and other senior professionals. I had no confidence, I didn't believe in myself. I distinctly remember thinking 'what am I doing here? I'm just a mum!".
But an incredible thing happened. Within a few minutes I realised that everyone else in the group had the exact same challenges as me. They had similar worries and outlook on life. The roundtables helped me to realise that we were all equal."
Becoming a Leader in Her Own Home
Not long after that first facilitator training session, Colette hosted her first roundtable group. At a local community group, Colette and a second facilitator lead two groups of five. Remarkably, Colette went to host two more groups thereafter. In both cases, these were held at the local GAA club. Parents that would otherwise be sitting in their cars, waiting for their kids to finish training, joined in for 30 minutes a week. Colette described the impact that the roundtables had on the group dynamic.
"The roundtables created a great sense of togetherness. Being in such tight knit groups, reflecting on leadership values, you share an intimate experience. In those eight weeks, we became closer than we had been for years. It's become a kind of secret language at the GAA matches. We might point out leadership values during a match, "that's positive attitude..there's respect!" It's lighthearted but it shows that the values are something we're reflecting on.
It's been amazing to see the impact that Living LIFT is having on the participants. Some are finding improvements in their work lives. My sister, who I've always looked up to as a great leader in a professional sense, told me that LIFT is having the most impact in her home. This is something that resonated with me personally. Living in an alcoholic home, 'Respect' was a value I had difficulty with. But I soon discovered that everyone deserves respect. It doesn't simply depend on circumstance. My husband deserves respect as much as anyone else. I want to give him that respect and want my children to do the same.
I also found that I wasn't listening to my children as well as I should have been. It dawned on me that if there's no leader at home, how can I expect my kids to become leaders. It changed everything for me."
I'll Never Think of Myself as "Just a Mum" Again
After completing her third roundtable in a year, Colette has already made plans to start a fourth once the busyness of summer subsides. We asked her what being a facilitator has brought to her life.
"It's been incredible. With my background, I've never had a programme like this and I'm sure many others wouldn't have either. Some people might partake in leadership training courses at work or something like that but I never had that opportunity. I truly believe that if the entire country was given the chance to experience LIFT, Ireland would be a much better place.
LIFT has made me more open to learning, empathetic and mindful of my behaviour in my own home. I sometimes think about the person that walked into the RDS last year and the inner dialogue I had. My sense of self-worth was very low. Now, I can honestly say that I will never beat myself up for "just being a mum" again. I know that I don't have to be anyone else but myself. That might seem like a small thing but it's been a huge realisation for me. I only wish that I had found LIFT twenty years ago!"
---
We would like to thank Colette for sharing her story with us. Colette has been a hugely influential leader for LIFT Ireland. We are very grateful for the role she has played in introducing LIFT to other members of her community.
Start your own facilitator story today. Find out how to get involved by clicking the link below.